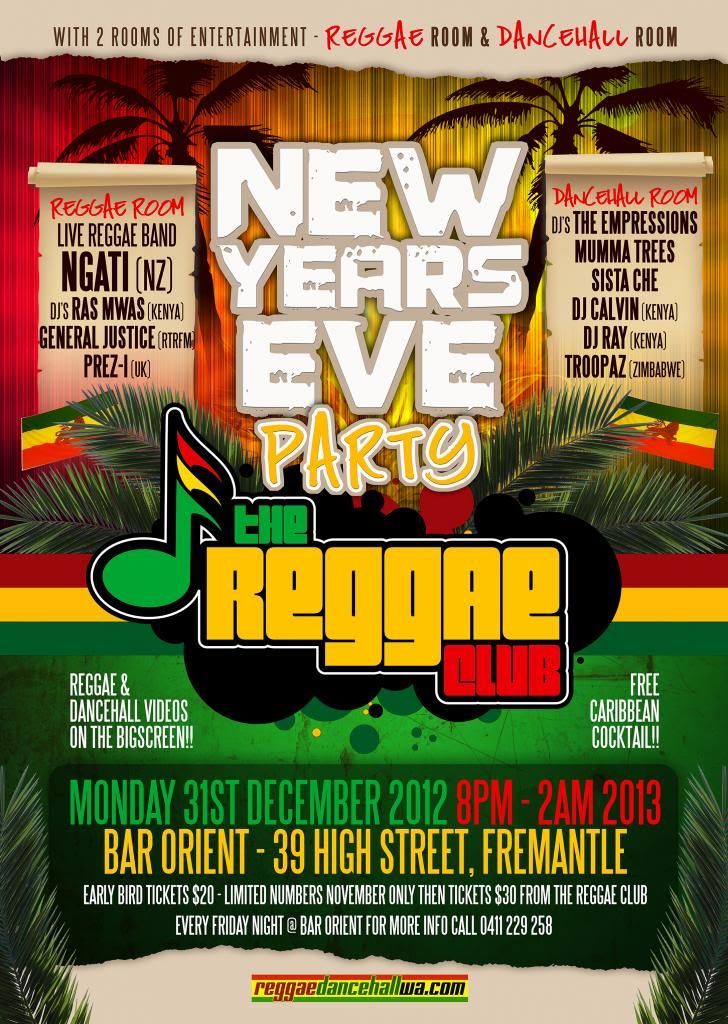 kick off 2013 inna the best way possible! And you you know that means great music (Reggae and dancehall!!), fantastic people, drinking and dancing all night!
The Reggae Club's New Years Eve party is gonna be something special with 2 rooms of entertainment!
In the Reggae Room:
LIVE REGGAE BAND NGATI!!! - These New Zealand Brothers are extremely talented, and deliver sweet lovers rock reggae music
GENERAL JUSTICE - flinging down some old school serious roots music
RAS MWAS - Playing all your favourite reggae tunes
PREZ - I - delivering some hardcore UK steppas stylings!
In the Dancehall area:
THE EMPRESSIONS - Australias first ladies of dancehall with Mumma Trees and Sista Che
DJ CALVIN - Mr Dancehall goodtimes himslef!
DJ RAY - smooth and sexy party tunes!
TROOPAZ - total party madness!
Reggae and dancehall videos on the big screens, free Caribbean cocktail on entry, giveaways and more!
Limited early bird tickets are only $20!!! but only in NOVEMBER and only from THE REGGAE CLUB (FRIDAYS BAR ORIENT)
After November tickets are $30 (more on the door if available)