THE ORIGINAL WAILERS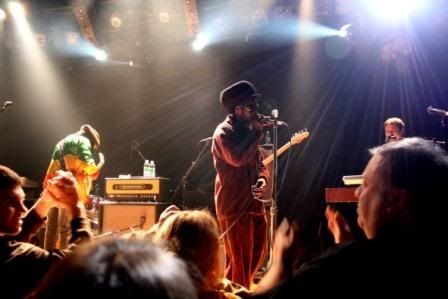 ANNOUNCE THE 'MOVEMENT OF THE PEOPLE' TOUR
A CELEBRATION OF THE 'EXODUS' ALBUM
A tide of pure energy is about to flood through Australia, as Bob Marley's Original Wailers announce their most anticipated Australian tour to date, the 'Movement Of The People' tour. The tour will feature a retrospective celebration of the 'EXODUS' album, voted by Time Magazine as the most important album of the 20th century.
Bob Marley & the Wailers have sold more than 250 million albums in the last four decades, and his band helped propel this international success.
Now Marley's legendary musicians, together with other renowned reggae session men, including legendary reggae session drummer Paapa Nyarkoh, and Jamaican keyboard virtuoso Desi Hyson, have reformed under the title of THE ORIGINAL WAILERS.
It was these celebrated musicians who gave Marley the platform for his explosive brand of roots rock reggae. The world's greatest reggae rockers, led by Junior Marvin and Al Anderson are heading to Australia to perform one of the most loved albums in history and Time Magazine's album of the 20th Century, EXODUS. This album continues to convey the clearest possible impression of Bob Marley, the singer, the lyrist, the musician, the philosopher, the lover, and the icon of the people.
EXODUS stands as the definitive statement of the concerns and the artistry of a man who, while himself marked by many of humanity's imperfections, rose from the obscurity of a third world shanty town to become one of the planet's most beloved and inspiring figures. His message speaks across generations of people of every colour and creed. And for five nights in November this message will be heard loud, clear and righteous in Australia.


Junior Marvin and Al Anderson toured and recorded with Marley until his death in 1981. This places them among the rare few - the true torchbearers of his legacy - which they memorably helped to create. Now The Original Wailers, with Junior handling lead vocals, promise to recreate musical history as they continue to spread the message of "One Love."
TOUR DATES
Monday 23rd November - The Beach Hotel , Byron Bay
TICKETS ON SALE Tue Sep 29th @ The Beach hotel / www.oztix.com.au / Beach Hotel Bottleshop
Publicity Contact: Rebbeca Vilanti / rebecca@beachhotel.com.au / (02) 6685 6402
Thursday 26th November - Metro Theatre, Sydney
TICKETS ON SALE THU SEP 24TH @ Metro Theatre Box Office, Ticketek www.premier.ticketek.com.au
Publicity Contact: James Browning / james@nicheproductions.com.au
Friday 27th November - The Esplanade Hotel, Melbourne
Tickets on sale now / www.oztix.com.au / The Espy Bottleshop + usual outlets
Publicity Contact: Candice Walley / candice@espy.com.au / (03) 95340211
Saturday 28th November - Queenscliff Music Festival, Queenscliff
Tickets On Sale Now: www.qmf.net.au/
Publicity Contact: Carolyn Logan / carolynlogan@bigpond.com / 0400 441025