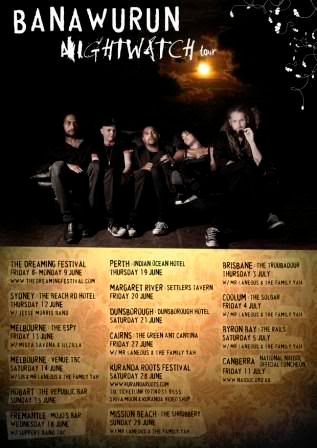 Banawurun
The Nightwatch Tour
With roots deep within the red soils of Indigenous Australia and Africa, Deadly Award Winners Banawurun are set to embark on a massive 20+ date national tour. Crossing from coast to coast, beach to bush, the Nightwatch Tour is set to see Banawurun announce themselves across the nation.
Having won the hearts of Australian audiences with a string of acclaimed festival performances, The Nightwatch Tour sees the Brisbane five-piece step onto the national stage to deliver the next installment of their soulful future roots and hypnotic outback Motown.
As those who have seen them in the flesh will know, this is first and foremost a live band and it is on stage that the magic truly happens. Distinctly Australian yet internationally focused, Banawurun make music for movement – as infectiously danceable as it is socially and politically charged.
Recently re-named by a Gu Gu Yelangi Elder, Banawurun (meaning "running water" and formerly known as Troy 'n' Trevelyn & The Tribe) was formed in 2004 by aboriginal man Troy Brady and Matabele Zimbabwean woman Trevelyn Brady. The band serves as a vehicle for bringing awareness and change to social inequalities by promoting through their music a message of equality and freedom.
Of course, whilst distinctly home grown in nature, Banawurun's songs are universally relevant. This was confirmed with the bands 2006 tour to the US, which culminated in a showcase performance at the world famous Viper Room in Los Angeles as part of MUSEXPO. Here delegates and press affectionately labeled Banawurun "The poster children of Australia".
Musically rooted within the cultures of the two singer songwriters, Banawurun takes the baton from iconic acts like Yothu Yindi and the Warumpi Band, fusing traditional indigenous instruments and ideas with new roots music sensibilities. With three EP's released throughout 2007 – each with the expert production of ARIA award winning producer Paulie B (George, The Beautiful Girls) – This upcoming national tour serves as a teaser and precursor to band's debut full-length release.
There is no band whose distinctly Australian, culturally vital and sonically powerful music stands to represent the new roots music movement like Banawurun's does.
The Nightwatch Tour
Friday June 6 to Monday June 9 – The Dreaming Festival, Woodford
Tix: www.thedreamingfestival.com or at front gate
Thursday June 12 – The Beach Rd Hotel, Sydney
w/ The Jesse Morris Band + Foreign Dub Soundsystem
FREE ENTRY
Friday June 13 – The Espy, Melbourne
w/ Mista Savona, Mr Laneous & The Family Yah
FREE ENTRY
Saturday June 14 – First Floor, Melbourne
w/ SiB + Mr Laneous & The Family Yah
Tix: $10 on the door
Sunday June 15 – The Republic Bar, Hobart
Tix: $10 on the door
Wednesday June 18 – Mojo's Bar, Fremantle
w/ Simon Kelly
Tix: $10 on the door
Thursday June 19 – Indian Ocean Hotel, Perth
FREE ENTRY
Friday June 20 – Settlers Tavern, Margaret River
FREE ENTRY
Saturday June 21 – Dunsborough Hotel, Dunsborough
FREE ENTRY
Sunday June 22 – The Darwin Fringe Festival, Darwin
www.darwinfringe.com.au
FREE ENTRY
Friday June 27 – The Green Ant Cantina, Cairns
w/ Mr Laneous & The Family Yah + The Rude
$5 on the door
Saturday June 28 – Kuranda Roots Festival, Kuranda
www.kurandaroots.com
Tix: TicketLink (07)4031 9555, Shiva Moon & Kuranda Video Shop, or at the front gate
Sunday June 29, Cairns – Esplanade Lagoon Stage, Cairns
FREE ENTRY
Sunday June 29 – The Shrubbery, Mission Beach
w/ Mr Laneous & The Family Yah
Tix: TBA at the door
Thursday July 3 –The Troubadour, Brisbane
w/ Mr Laneous & The Family Yah
Tix: $12/$15 at the door
Friday July 4 – The SolBar, Coolum
w/ Mr Laneous & The Family Yah
Tix: $10 at the door
Saturday July 5 – The Rails, Byron Bay
w/ Mr Laneous & The Family Yah
FREE ENTRY
Friday July 11 – National NAIDOC Official Luncheon, Canberra
www.naidoc.org.au
INVITE ONLY
Friday July 11 – The Transit Bar, Canberra
w/ Casual Projects
FREE ENTRY
Friday July 18 – The Sound Lounge, Gold Coast
w/ Kooii & Grassroots Street Orchestra
Tix: $14 @ www.thesoundlounge.com.au or $16 at the door
Sunday July 20 – Brisbane Festival: Racecourse Rd Street Party, Brisbane
www.brisbanefestival.com.au
www.myspace.com/banawurun