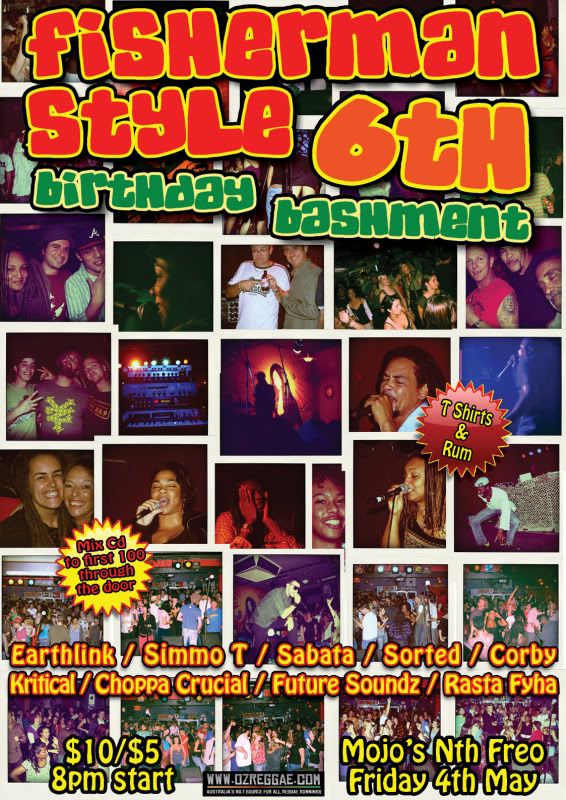 Fisherman Style 6TH BIRTHDAY BASH

Friday 4TH May 2012

Mojo's Bar – North Fremantle


Calling all massive and crew!!!!!!


Friday 4th May sees Perth's legendary Reggae Dancehall night celebrate its
6th Birthday Bash in the finest of styles.

From the humblest of beginnings Fisherman Style has grown to become the
longest regular Reggae Dancehall night in Perth and one of the longest in the
country behind Melbourne's eminent More Fire and Pressure Drop nights.

For what is sure to be a night of all that is great about Jamaican music your
hosts EARTHLINK SOUND have invited some Fishy regulars and Perth's top sounds
and selectors to help celebrate. Playing on he night will be former Earthlink
selectors SIMMO.T, CHOPPA CRUCIAL and ISIS from SABATA. FUTURE SOUNDZ will be in
rinsing from their heaviest of dub boxes along with the big man RASTA FYAH. Also
playing for the second time at Mojo's will be the man called KRITICAL, a
selector causing serious waves around town. Last but certainly not least the
original geeza SORTED.

To help with the celebration the first 100 people through the door will
receive a brand new crisp biscuit EARTHLINK mix CD. But wait there's more,
T-shirt giveaways, Appleton Rum and yet more up to the time CD's by your
favourite artists!!!!!!

Runnings start from 8pm with $10 pressure on the door.

As we always say………………Reggae music to di world!!!!!