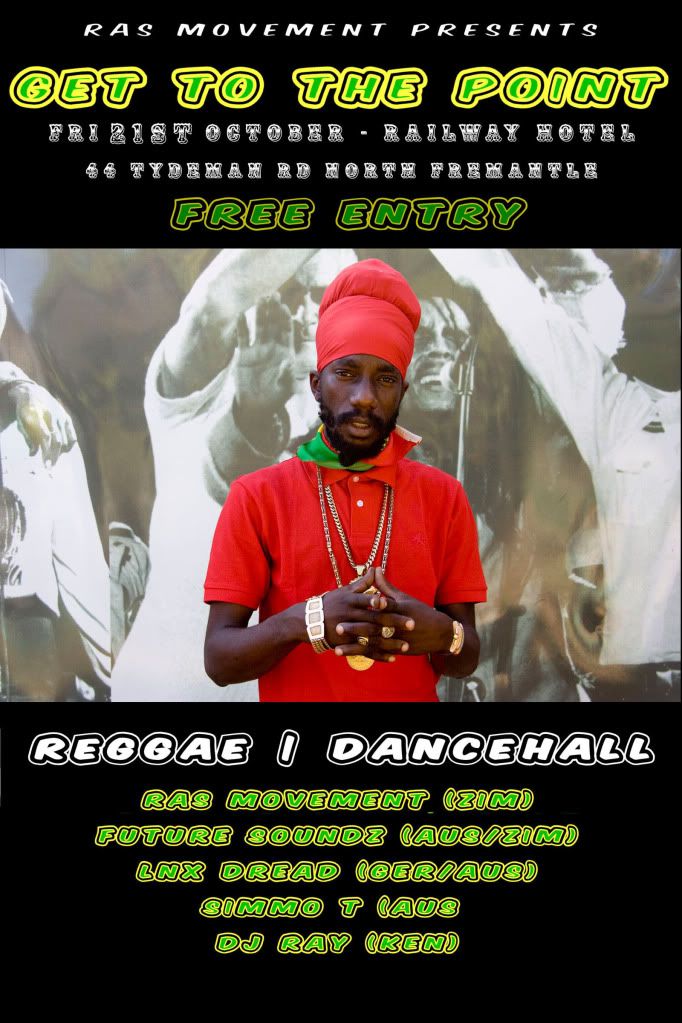 RAS MOVEMENT SOUND ENTERTAINMENT SOUND PRESENTS:
GET TO THE POINT

AS YOU KNOW WE ARE GOING INTO SUMMER HERE IN PERTH,YOU KNOW............
WILL BE PARTYING DOWNTOWN AT RAILWAY HOTEL & SET UP FOR THE FIRST TIME OUTSIDE.
WE FEEL THE VIBES NOW
SUMMERTIME INNA NORTH FREMANTLE
SUMMERTIME INNA MY SCHEME.....
SO YOU HAVE TO REACH RAILWAY HOTEL INNA SUMMERTIME.
COME AND FEEL THE VIBES FROM YOUR BEST DANCEHALL DJ'S IN PERTH.
THIS TIME WE HAVE A SPECIAL GUEST....SIMMO T (AUSTRALIA) & DJ RAY (KENYA) AND YOUR RESIDENT SOUNDS, RAS MOVEMENT(ZIMBABWE) & FUTURE SOUNDZ (AUSTRALIA/ZIMBABWE). THE DJ'S ARE READY TO SET THE ROOF ON FIRE...
TO TOP IT OFF WE HAVE PERFORMANCES LNX DREAD OUTTA PERTHS NUMBER ONE DANCEHALL CREW 'YOUTH INNA BOOTH'.
GET READY FOR THIS EVENT.........BRING YOUR FRIENDS, FAMILY AND FRENEMIES......ONE LOVE

DRESS CODE......SUMMERTIME GEAR.
FREE ENTRY ALL NIGHT

STRICTLY REGGAE AND DANCEHALL....